What are Esophagael Problem Signs?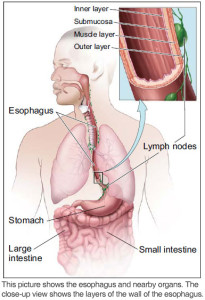 What is esophagael problem sigsn?  Esophageal cancer (or oesophageal cancer) is malignancy of the esophagus. There are various subtypes, primarily squamous cell cancer (approx 90–95% of all esophageal cancer worldwide) and adenocarcinoma (approx. 50–80% of all esophageal cancer in the United States). Squamous cell cancer arises from the cells that line the upper part of the esophagus. Adenocarcinoma arises from glandular cells that are present at the junction of the esophagus and stomach.[1]
Esophageal tumors usually lead to dysphagia (difficulty swallowing), pain and other symptoms, and are diagnosed with biopsy. Small and localized tumors are treated surgically with curative intent. Larger tumors tend not to be operable and hence are treated with palliative care; their growth can still be delayed with chemotherapy, radiotherapy or a combination of the two. In some cases chemo- and radiotherapy can render these larger tumors operable. Prognosis depends on the extent of the disease and other medical problems, but is generally fairly poor.[2]
What Esophagael Cancer Looks Like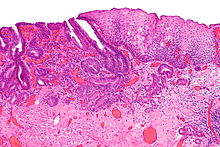 Signs_and_symptoms
Dysphagia (difficulty swallowing) and odynophagia (painful swallowing) are the most common symptoms of esophageal cancer. Dysphagia is the first symptom in most patients. Odynophagia may also be present. Fluids and soft foods are usually tolerated, while hard or bulky substances (such as bread or meat) cause much more difficulty. Substantial weight loss is characteristic as a result of reduced appetite, poor nutrition and the active cancer. Pain behind the sternum or in the epigastrium, often of a burning, heartburn-like nature, may be severe, present itself almost daily, and is worsened by swallowing any form of food. Another sign may be an unusually husky, raspy, or hoarse-sounding cough, a result of the tumor affecting the recurrent laryngeal nerve.
Recent Posts
Categories
Archives